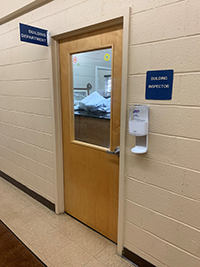 Construction Official / Building Sub-code Official/ : Anthony Ambrogio
Property Maintenance / Plumbing Sub-code Official: James DePadova
Address: Municipal Building, 182 Market Street, Elmwood Park, NJ
Phone: 201-796-1457 x601
Fax: 201-796-0142
Office Hours: Mon-Fri 8:30am-4:30pm; by appointment only between 7:30-8:30am
Plumbing Inspector: Pete Simchera (Mon, Wed 3:30-5pm)
Electric Subcode Official: Joe Dymarczyk (Mon, Wed, Fri 4-6pm)
Electric Inspector: Rocco Comitello (Tues, Thurs 4-6pm)
Fire Subcode / Inspector: Phillip Cheski (consultation during regular business hours available by appointment)
Building Department Reminders
Certificate of Re-Occupancy is required:
Every time a new tenant moves in.
When a property is sold/purchased.
Grass Height:
Maximum height 8 to 10 inches; violations will be issued. Keep Elmwood Park beautiful!
Recreational Vehicles:
Boats, trailers, etc., - cannot be parked in front of homes, as per Borough ordinance.
Permits: Do I need one?
Don't trust the contractor or your neighbor – fines are high. If you are ever unsure if you need a permit, call the Building Department at 201-796-4085.

Building Permits
Please call the Building Department to find out if you need a permit for any home improvement project you wish to do. The department welcomes such calls.

Property Maintenance
Numbers should be placed on all residences for quicker response in emergencies.
Cars should not be parked on front lawns - except when it's snowing.
No car that is uninspected or unregistered or in a state of disrepair or disassembly shall be parked or stored on any property in any residential zone. No car while parked in any unenclosed, off-street parking area or driveway in any residential zone shall be stripped, dismantled or undergo any type of major overhaul, including body work, on jacks, blocks, with or without tires, or is inoperable in its existing condition. It's the law.

Certificates of Occupancy - Homes and Apartments
When selling your house or renting an apartment, you must obtain a certificate of occupancy from the Building Department.

Illegal 2- or 3-Family Homes
Since everyone must pay their fair share of taxes, the Mayor and Council are aggressively monitoring illegal dwellings. Any known or suspected illegal three- or two-family homes should be reported to the Building Department: 201-796-4085.
Any dwelling found to be an illegal apartment will be subject to a summons and court appearance along with a fine (up to $1,500 for first offense) for the owner of the property.

Landscapers and the Law
Please see that any landscaper you hire is licensed in the Borough. There is a $25 fee for this permit, and you should check with your landscaper to be sure such a permit has been obtained.

Building Department Frequently Asked Questions
Q: Does installing or replacing some sheds, pools or fences in the yard require a permit?
A: Yes.
Q: Does replacing doors or windows with new ones of the EXACT same size require a permit?
A: No, but if you change the rough opening and make it smaller or larger, this DOES require a permit.
Q: Does replacing a hot water heater with a new or used one require a permit?
A: Yes.
Q: Does replacing a driveway on your property require a permit?
A: Yes. If you replace the driveway from your property line across the sidewalk to the curb, then you need an additional permit from the Department of Public Works at Slater Drive.
Q: How come my permit takes so long to get?
A: Some permits are simple and can be issued quickly; others can be more complex and require a longer time for review and research. So, like any project, please plan ahead and hire qualified professional builders and architects that are properly insured and have proven references. Most permits that are issued are good for one year. After receiving your permit and the work is completed, remember to call for final inspection so the permit can be closed out.
Q: What information do I need about contractors?
A: All Contractors who work do work in the Borough not only have to be licensed but also carry public liability insurance and workman's compensation insurance. Every contractor must register with the Building Department each year and provide a certificate of insurance. There is a fine in the amount of $2,500 if the contractor is found to be unregistered. All residents who are having work done by a contractor should insist on the contractor showing proof of licensing and insurance.

Building Department Downloads

Where in Elmwood Park is it?
182 Market Street, Elmwood Park, NJ