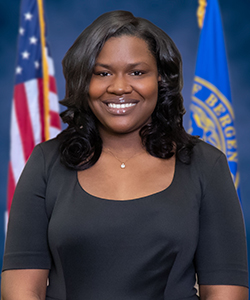 Acting Borough Clerk: Shanee Morris, CMR
Address: Elmwood Park Municipal Building, 182 Market Street, Elmwood Park, NJ 07407
Phone: 201-796-1457 ext. 202
Fax: 201-794-0976
E-mail: This email address is being protected from spambots. You need JavaScript enabled to view it.
Hours: Mon-Fri, 8:30am-4:30pm

IMPORTANT NOTICE REGARDING VOTER REGISTRATION: If you are not registered, have changed your name, or moved from one district to another, please call the Municipal Clerk's Office. Registration books are closed 21 days before each election; therefore, to vote you must register before that time.

Core Duties of the Municipal Clerk
The position of Borough Clerk is required by New Jersey statute (N.J.S.A. 40A:9-133) to:
serve as Secretary to the Mayor and Council - prepare meeting agendas, be present at all meetings of the governing body, retain the original copies of all ordinances and resolutions, and record the minutes of every meeting;
act as secretary to the municipal corporation and custodian of the municipal seal and of all minutes, books, deeds, bonds, contracts and archival records of the municipal corporation;
serve as the chief administrative officer in all elections in the municipality;
serve as the chief registrar of voters in the municipality, subject to the requirements of Title 19 of the Revised Statutes;
serve as the administrative officer responsible for the acceptance of applications for licenses and permits and the issuance of licenses and permits.

Elmwood Park Borough Code
Click here to view the Borough Code online

Borough Clerk Downloads

Where in Elmwood Park is it?
182 Market Street, Elmwood Park, NJ