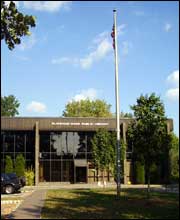 Located at 210 Lee Street, the Elmwood Park Public Library contains more than 50,000 materials including a wide variety of books, magazines, newspapers, CDs, DVDs, and books on tape and CD. Downloadable audio books are also available to Elmwood Park patrons via the Bergen County Cooperative Library System (BCCLS) website.
As a member of BCCLS, the library's patrons can use their Elmwood Park library card to borrow books and audiovisual materials from any of the 70+ BCCLS member libraries. Materials can also be borrowed from throughout the state and the country through our Interlibrary Loan program.
The Library offers a wide variety of services to the public that includes:
Weekly Story Time Programs for pre-school children and toddlers
Summer reading program for children
Drop-in activities for children year-round
For more information, please visit the Library's web site at http://www.elmwoodparklibrary.com.

Where in Elmwood Park is it?
210 Lee Street, Elmwood Park, NJ