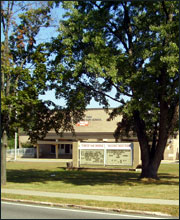 The Elmwood Park Public Schools serve students in Kindergarten through 12th grade. Schools in the district consist of three K-5 elementary schools, Gantner Avenue School with approximately 289 students, Gilbert Avenue School with 329 students, and Sixteenth Avenue School with 300 students; Memorial Middle School with approximately 542 students in grades 6-8; and Elmwood Park Memorial High School with approximately 648 students in grades 9-12.
Click below to visit the web site of the particular school for additional information:
For more information, visit the Elmwood Park Board of Education web site at www.elmwoodparkschools.org.

Private Schools in Elmwood Park
St. Leo's School
300 Market Street
Elmwood Park, NJ 07407