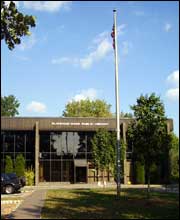 Located at 210 Lee Street, the Elmwood Park Public Library contains more than 80,000 materials including a wide variety of books, magazines, newspapers, CDs, videos and DVDs, books on tape and CD, and CD-ROMs. Downloadable audio books are also available to Elmwood Park patrons via the Bergen County Cooperative Library System (BCCLS) website.
As a member of BCCLS, the library's patrons can use their Elmwood Park library card to borrow books and audiovisual materials from any of the 70+ BCCLS member libraries. Materials can also be borrowed from throughout the state and the country through our Interlibrary Loan program.
The Library offers a wide variety of services to the public that includes:
Computer classes
Arts and cultural programs for adults, children
Weekly Story Time Programs for pre-school children and toddlers
Monthly book discussion groups for children in grades 3 to 9
Summer reading program for children
Summer book club for teens
Drop-in activities for children year-round
For more information, please visit the Library's web site at http://elmwoodpark.bccls.org.

Where in Elmwood Park is it?
210 Lee Street, Elmwood Park, NJ