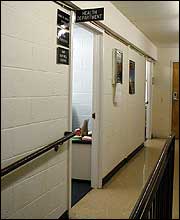 Health Officer: Bergen County Health Officer Hansel Asmar
Registrar: Marlene DiStefano
Address: Municipal Building, 182 Market Street, Elmwood Park, NJ 07407
Phone: 201-796-1457 x600
Fax:201-794-0976
E-mail: This email address is being protected from spambots. You need JavaScript enabled to view it.
Hours: Mon-Fri, 9am-4:00pm
The Health Department provides numerous services for residents.
Maintenance of vital statistics records and Registrar services. This includes birth, marriage and death certificates, burial permits, marriage licenses.
Animal bite investigations and community rabies control activities
Dog and cat licensing
Communicable disease investigations
Illness outbreak investigations
Flu immunizations for older adults
Audits of school immunization records
Health Promotion – Education Services: poison and injury prevention, alcohol and drug abuse, tobacco use and prevention, nutrition, AIDS, disease prevention. Services are extended to members of general public, community groups, schools, public events and work sites.
Environmental complaint investigations
Inspection of restaurants, cafeterias, food markets
For more information on these or other programs offered by the Health Department, call 201-796-1457 Ext. 604.

Social Security Field Office Information - Effective August 1, 2014
As result of the upcoming Field Office Service Changes by the Social Security Administration, the possession of the original Social Security card is a verification of your Social Security number. Beginning August 1, 2014 the Social Security office will no longer issue Social Security number printouts in the field offices, nor will the Social Security office be able to complete any letters verifying Social Security Numbers. Individuals, who need proof of their Social Security number and cannot find their card, will need to apply for a replacement card.
To assist customers, there is a wealth of information and online service options available on our website at www.socialsecurity.gov. Or you can call toll-free number, 1-800-772-1213 (TTY 1-800-325-0778), and ask for helpful publications, such as:

Poison Control
In the event of a poison emergency, you can call the NJ Poison Control Hotline: 1-800-222-1222.

Dog & Cat Licensing and Waste Removal
All Elmwood Park dogs and cats must have a current pet license and current rabies immunizations. Puppies and kittens need a municipal license beginning at 6 months old. Late fees will apply beginning February 1st.
Remember to clean up after your dog and dispose of the waste. You must carry a container to pick up waste. A summons will be issued for failing to do so.

Proper waste disposal following your cat's RIT procedure
After your cat has received Radioactive Iodine Therapy (RIT), your pet will emit a small amount of radiation. The radioactive iodine is useful in treating the condition that your veterinarian has diagnosed in your cat. Caution should be taken in disposing of products that may contain trace amounts of this radioactive substance.
The radioactive iodine will exit the cat's body by way of the urine and feces. Any excrement, vomit or soiled kitty litter should be disposed of carefully.
The following is the method for safe handling and disposing of your cat's waste that may contain trace amounts of radiation. This is to ensure that the material will not enter the environment before it is at a safe level.
Upon returning home from the veterinarian's office, provide a clean litter box with a disposable liner – a plastic garbage bag works well, and fill with clumping (scoopable) litter.
Place litter box in an area away from humans and other animals.
Every day scoop out the excrement and place it in a sealed container. Self sealing food storage bags work well.
Place them in a tightly covered container – a large plastic food storage container works well.
Store tightly covered in an outdoor shed or garage away from the house.
Use gloves when scooping the litter and while cleaning up around the litter box. The same procedure should be used for vomit at this time.
Replace litter as needed.
Do not place in your regular garbage.
Your veterinarian will tell you how long to store this litter and when it can be safely disposed of and how long your cat may emit radiation and other after care instructions.

Medical Radioiodine Waste Disposal for Patients
Every year more than 40,000 people are diagnosed with thyroid disease which treatment may involve radioactive iodine- 131. It concentrates in the thyroid, but slight amounts are excreted in saliva, sweat, stool, urine and blood.
If you have received I-131 treatment from your healthcare provider, there are safety measures that you should be aware of to dispose of waste that may contain trace amounts of I-131. By following these guidelines and following your healthcare provider's instructions, you will protect your loved ones and the radioactive material will not enter the environment before it is safe.
Any personal care, disposable items such as diapers, wipes and sanitary products that would be used to absorb body fluids should be disposed of as follows.
Each soiled product that will be thrown away should be placed in a self sealing plastic bag.
This bag should then be placed in a tightly covered, storage container, such as a large plastic storage box.
Store the container in a secure area away from pets and family members.
Your healthcare provider will tell you how long to hold the discarded items and can tell you about disposal methods.
Call your healthcare provider if you require additional information concerning safe disposal of personal care items.
Please do not place into household garbage.
There have been instances reported by the NRC where garbage trucks filled with household garbage and such medical waste, have set off radiation detectors at landfills. The trucks then must be emptied and searched for source of the radiation.

Health Department Downloads
Where in Elmwood Park is it?
182 Market Street, Elmwood Park, NJ