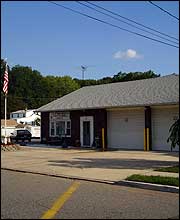 President: Peter Pias
Address: 236 Falmouth Avenue, Elmwood Park, NJ 07407
Phone: IN CASE OF EMERGENCY, CALL 9-1-1
Phone - Non-Emergency: 201-796-8077
Website: www.epvac.com
Facebook: www.facebook.com/Elmwood-Park-Volunteer-Ambulance-Corps-132465096828319

The Elmwood Park Volunteer Ambulance Corps supplies emergency medical service free of charge to the residents of Elmwood Park and surrounding communities. All members are volunteers and fully certified emergency medical technicians. Membership is currently low and the Corps is seeking additional volunteers. To offer assistance, call 201-796-8077.